CITY TOUR + VIP SACRED VALLEY + MACHU PICCHU + MOUNTAIN OF 7 COLORS + HUMANTAY LAKE (FREE: AIRPORT PICK UP + DROP OFF)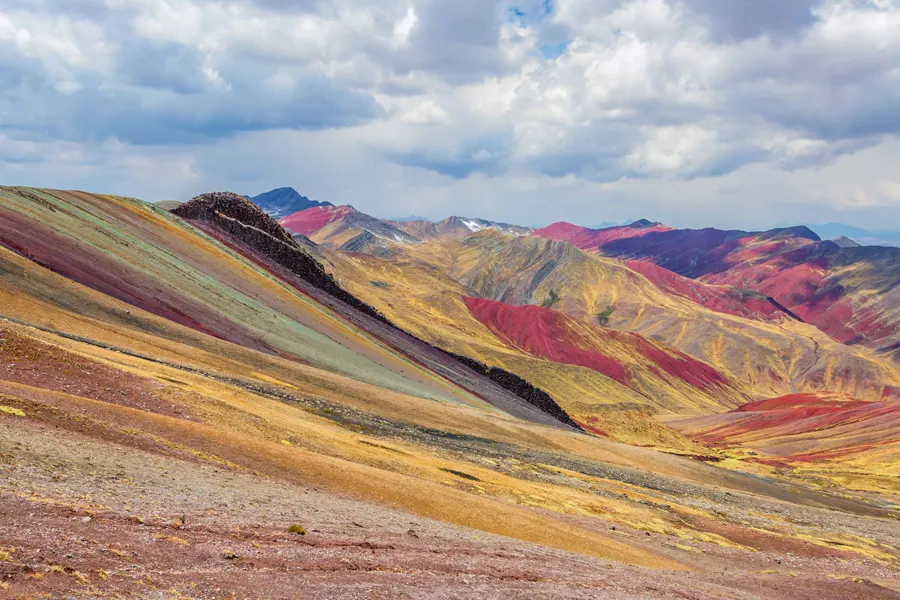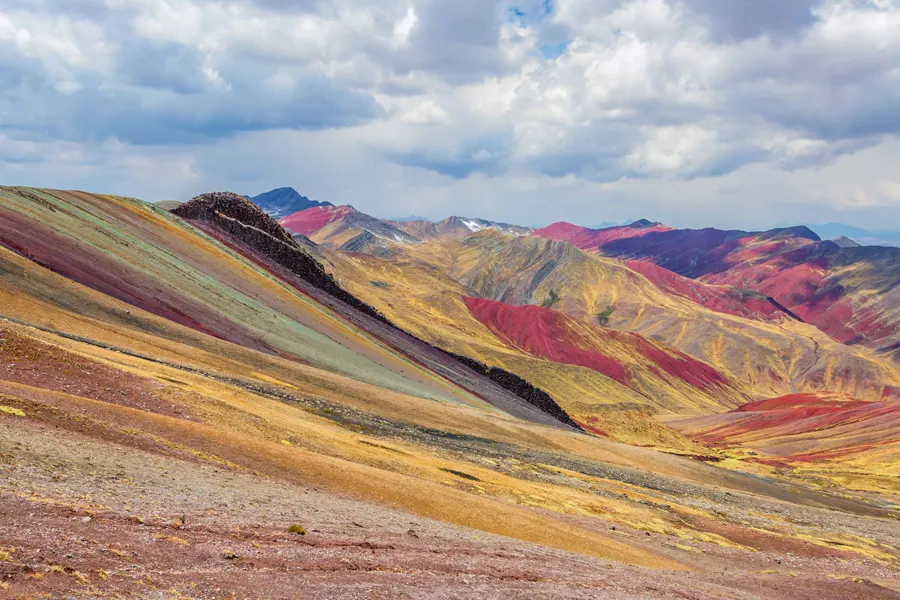 • The tour to Machupicchu is private with small groups and is perfect for couples.
• Pallcoyo is a 45-minute walk, few tourists and you can see 3 colored mountains.
• The City Tour and the Sacred Valley offer 4 places in 1 single day and many photographs.

CITY TOUR
9 am. We will start the day, visiting the house of the Sun, (Qoricancha), then the archaeological park of Saqsayhuaman, and the ancient monuments of Quenqo, Pucapucara and Tambomachay.
SACRED VALLEY CHINCHERO – MARAS – MORAY AND OLLANTAYTAMBO
7 am. We will begin our visit to the sacred valley of the Incas, we will visit the Chinchero Village, the archaeological park of Moray, the salt mines of Maras, we will have lunch in the town of Urubamba and we will end in the Archaeological Park of Ollantaytambo.
After the tour we will take the train to the town of Aguas Calientes, upon arrival you will go to your hotel. At night our guide will stop by the hotel to meet you and detail the program for the next day.
MACHUPICCHU ARCHAEOLOGICAL PARK
We will go to the bus station and board our bus to the sanctuary of Machupicchu. Upon arrival we will have a guided tour of the most important places of the Inca Sanctuary, as we are a small group we will explore more places and then you will have free time to explore and take photographs on your own.
If you want to climb the Machupicchu or Waynapicchu mountain, there is an extra cost and a limit of people per day. If you want this option, read the information below.
Once free time is over, you must go down to the town of Aguas Calientes to have lunch (not included) and board the train to the city of Cusco.
The train will return to the town of Ollantaytambo and then we will board our bus that will take us to the city of Cusco and then to your hotel in the city.
Important: keep in mind that you must be at the train station 30 minutes before the departure of the train.
MOUNTAIN OF 7 COLORS PALLCOYO
Between 5 and 6 a.m. We will pick you up from your hotel. We will start our journey south aboard our tourist transport.
After a 4-hour drive we will arrive at the parking lot. We will ascend walking for 45 minutes, until the Pallcoyo viewpoint we will be able to appreciate the 3 colored mountains and their multicolored layers, we can also appreciate a curious stone forest which is made up of rocky peaks formed naturally by the wind and rain.
Pallcoyo is a short walk, without many tourist groups and with 3 colored mountains, different from Vinicunca which is 3 hours of walking and an impressive view of 1 colored mountain, Vinicunca is suitable for those who like to walk.
HUMANTAY LAKE
Between 4 and 5 a.m. We will pick you up from your hotel, we will travel to the Salkantay Mountain Range north of Cusco City.
After 3 hours of travel we will arrive at the town of Soraypampa, we will begin our walk towards the Humantay lagoon which is located at 4200 meters, for 2 hours, upon arrival we will be greeted by a turquoise lagoon with the snow-capped Humantay, we will explore and take pictures.
The Humantay Lake is one of the most visited places after Machupicchu.
Incluye
Free:
• Pick up from the airport, with transportation from the airport to your hotel in Cusco.

City Tour:

• Pick up from the Hotel, Tourist Transport and professional bilingual guide.

Sacred Valley Vip and Machupicchu:

• Pick up from the Hotel, Tourist Transportation, Professional bilingual guide and Buffet Lunch in the Sacred Valley (vegetarian option available).

• Train: Train tickets Ollantaytambo / Machupicchu / Ollantaytambo (Expedition or Voyager category ) (Optional: Vistadome Train or 360° see information below).

• Tickets: Entrance to the Sanctuary of Machupicchu (Optional: Waynapicchu Mountain or Machupicchu Mountain, is subject to availability, contact us, see information below).

• Bus: To go up and down to the Archaeological Park of Machupicchu.

• Guide: Professional in Spanish or English.

• Transportation: Private mobility from the Ollantaytambo train station to your hotel in Cusco.

Pallcoyo Rainbow Mountain and Hum
antay Lake:
• Tourist Transportation: Pick up from the hotel, professional driver and return to the city of Cusco.

• Guide: Professional Bilingual Spanish and English.

• Food: Breakfast and Lunch (Option: Vegetarian available).

• Tickets: Entrance to the Pallcoyo Mountain and Entrance to the Humantay Lake.

• Security: Walking sticks, first aid kit and oxygen bottle

No Incluye
City Tour and Sacred Valley:
• Entrance to the Temple of the Sun (Qoricancha), (general ticket S/. 15 per person).
• Cusco Tourist Ticket is the entrance to the archaeological parks and can be purchased at the same archaeological sites: (General Ticket S/. 130 valid for 10 days – prices per person).
• Entrance to the Salt Mines of Maras (general ticket S/. 10 per person)
Macchu Picchu:
• Accommodation: Accommodation in Aguas Calientes.
• Food: Lunch in Machupicchu
Pallcoyo Rainbow Mountain and Humantay Lake:
• Horse Rental (Depending on availability and weather. There are no horses in Pallcoyo.

• We need a minimum of 02 people to reserve.
• It is necessary that you send us a copy of your passports to our email.

• Minimum to book 1 week in advance, the earlier you book, the better we can organize your income and train tickets.

• For individual travelers or groups, who want to add something extra to the itinerary, please contact us at whatsapp +51984663300.

For the tour to the Sacred Valley + Machupicchu.
• No refund will be granted for the Sacred Valley + Machupicchu tour, in any case, since we buy all the tickets, train tickets, etc. As soon as we receive your reservation.
For the City Tour, Rainbow Mountain and Humantay Lagoon tours.
• If you cancel the tour between 3 and 7 days before the tour, we will only refund 50% less shipping costs.
• Date changes have a cost of $20 dollars per person and are subject to availability.

• What is necessary to make my reservation after payment?
When paying, the reservation will only proceed with the sending of the passport and the data form that will be sent to the registered email, if the legible photo of the passport/s or the form is not sent, the reservation WILL NOT BE CONCRETE.
• Can I choose a preferred time to visit Machupicchu?
When you have made your reservation, you will automatically receive an email, where you will inform us about the important information of your trip, such as the hotel, the arrival time of your air flight and if you want a special schedule for Machupicchu, you can consult us so that we can review availability and respond as soon as possible.
• What is the Vistadome train?
The Vistadome train has a panoramic view due to its larger windows, differs in schedule and price and has an additional cost of $70 per person
When you receive the email where you can send us your passports, you have the option to ask them to check availability and add the Vistadome train to your reservation.
• Option Waynapicchu and Machupicchu Mountain.
There are two roads to the mountains that surround the archaeological site of Machupicchu, Waynapicchu to the north and Machupicchu mountain to the south, it has an extra cost of USD $30 per person.
In case you choose to add one of these two walks, contact us first at whatsapp +51984663300, to help you with the availability issue.
• For the airport pick-up, what happens if my flight is delayed?
Contact us at WhatsApp +51984663300 so that our team can verify if the pick-up can still be postponed, our drivers are hired for specific times and if the delay is more than 1 hour the pick-up would be lost.
• How is the distribution of seats on the trains?
The train company assumes the distribution of seats on the train; we have no influence on it.
• How is it about date changes?
Date changes are subject to availability and an additional charge as indicated in our reservation terms.
• How is About refunds?
All tours to Machupicchu or that combine another tour with Machupicchu, are not refundable under any circumstance, reason or illness, the Ministry of Culture and other public and private companies have very strict rules.
There are no refunds in case of delayed flights, natural disasters, inconvenience with train schedules, bad weather, strikes that affect the tour, Pandemics, passenger illnesses or for wrong information provided by the passenger.
• How is the weather in Cusco?

We cannot foresee the weather in the mountains in unpredictable and can change at any time, we suggest you bring to Cusco winter and summer clothes and always follow our recommendations. When you arrive in Cusco, our staff will coordinate a meeting to explain your tours and provide the necessary recommendations for an adequate stay in Cusco.

Since 2023 in Peru, tourist activities have been carried out regularly and there are no special requirements for tourists, but if any passenger wishes to wear chinstraps during their trip, they can do so as normal.
Select a date
Select a time
Available languages
Total: $0.00
Duration
5 DAYS
Type
Pick-up
Pick-up at hotel (only for hotels in the downtown area)
Destinations
Cleanliness and Safety
Regular System